Description
1380 nm C-MOUNT LASER DIODE for DPSS pump source LiDAR Military Aerospace Features
C-Mounted Laser Diodes are an excellent choice for customers seeking state-of-art performance in a low cost submount design. These lasers are provided across the InP wavelength range of 12xx to 19xx and come in a variety of power, wavelength and lensed configurations. Applications for mounted lasers include OEM medical, consumer medical, LiDAR, Military targeting, range finding and illumination. Custom wavelengths and configurations available upon request.Fast axis collimated to 10 mrad with f=274um lens.
Wavelength: 1380 nm
Power: 5.4 W CW
Aperture: 95 um
Mode: Multi Mode
Cavity Length: 2500 µm
Lens Collimated <10mrad f=274um, 5mm Lg
C-Mount

High Power Single-Mode and Multi-Mode SemiNex Lasers
12xx to 19xx nm
Custom Wavelengths Available
Lensed Options Available
Applications
OEM Medical
DPSS pump source
LiDAR
Military / Aerospace
Features
Cost effective
High Output Power
High Dynamic Range
High Efficiency
Standard Low Cost Package
Diodes will be installed in medical devices.
Designed to conduct a wide range of surgical procedures, the purpose of which is:
– vaporization (layer-by-layer removal) of biological tissues;
– correction of the shape and volume of healthy tissues for aesthetic and therapeutic purposes;
– ensuring hemostasis;
– coagulation of biological tissues;
– dissection of biotissues;
– power thermotherapy.
Symbol
Value
Units
Optical
Wavelength
λc
1380
nm(+/-20)
Output Power (CW)
Po
5.4
watts
Spectral Width
Δλ
15
nm 3dB
Cavity Length
CL
2500
μm
Emitter Width
W
95
μm
Emitter Height
H
1
μm
Temp. Coefficient
Δλ/ΔλT
0.55
nm/C
Slope Efficiency
ηo
0.45
W/A
Slow Axis Divg.
θ_parallel
9
deg FWHM
Fast Axis Divg.
θ_perp
0.6
deg FWHM
Number of emitters
 
1
 
Duty Cycle
DC
100
%
Lens Effec. Focal Length
f
274
μm
Included Part Option
 
Lens Collimated <10mrad f=274um, 5mm Lg
 
Electrical
Power Conversion Eff.
η
23
Min
Threshold Current
Ith
0.45
A
Operating Current
Iop
13
A
Operating Voltage
Vop
1.8
V
Series Resistance
Rs
0.05
ohm
Mechanical
Lead Soldering Temp.
 
250
°C
Storage Temp.
 
-40 to 80
°C
Weight
 
1.3
g
Operating Temp.
 
-40 to 60
°C
Laser Engine Misc
LE X Axis Divergence
θ_X
0.6
deg FWHM
LE Y Axis Divergence
θ_Y
9
deg FWHM
Other
Specified values are rated at a constant heat sink temperature of 20oC.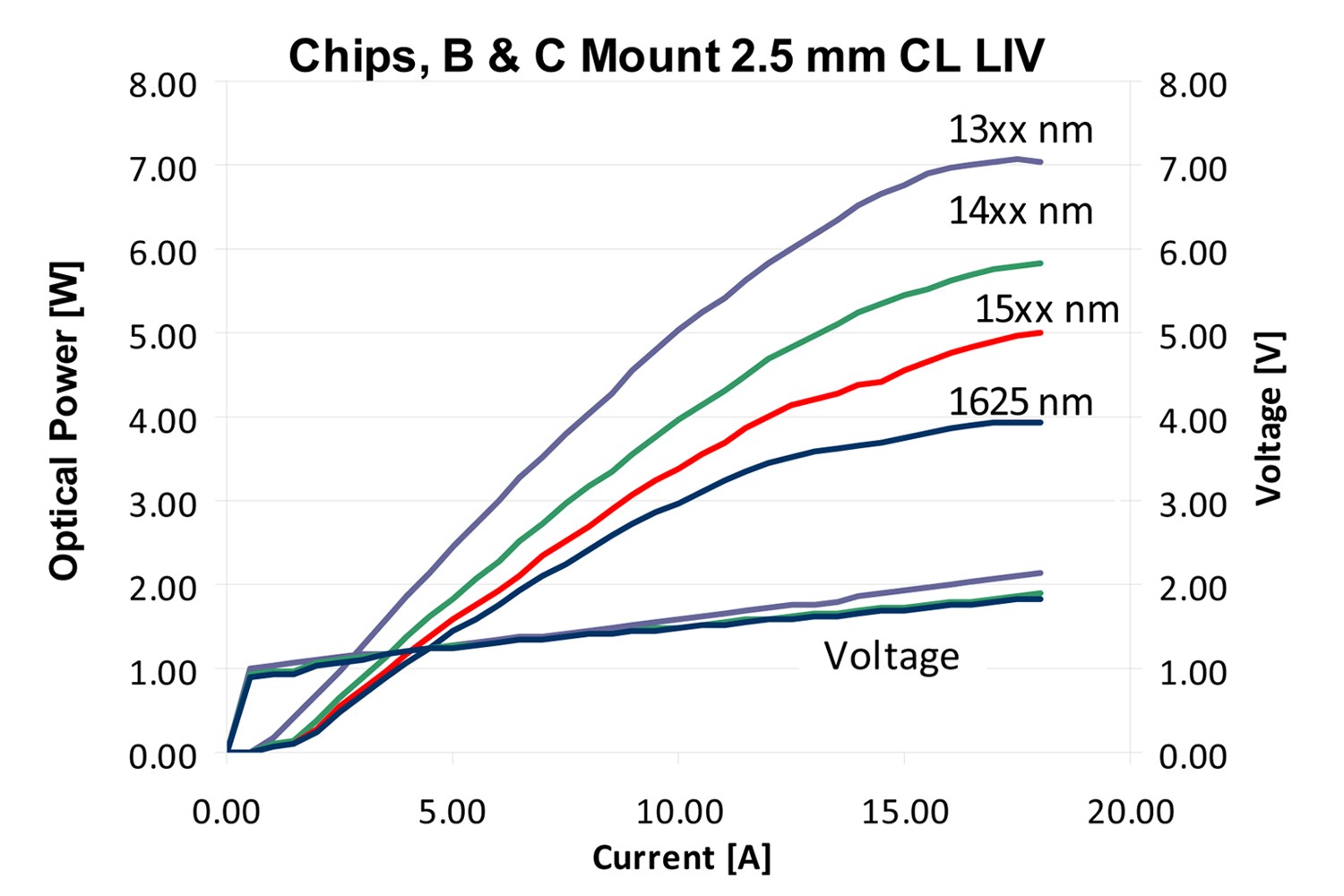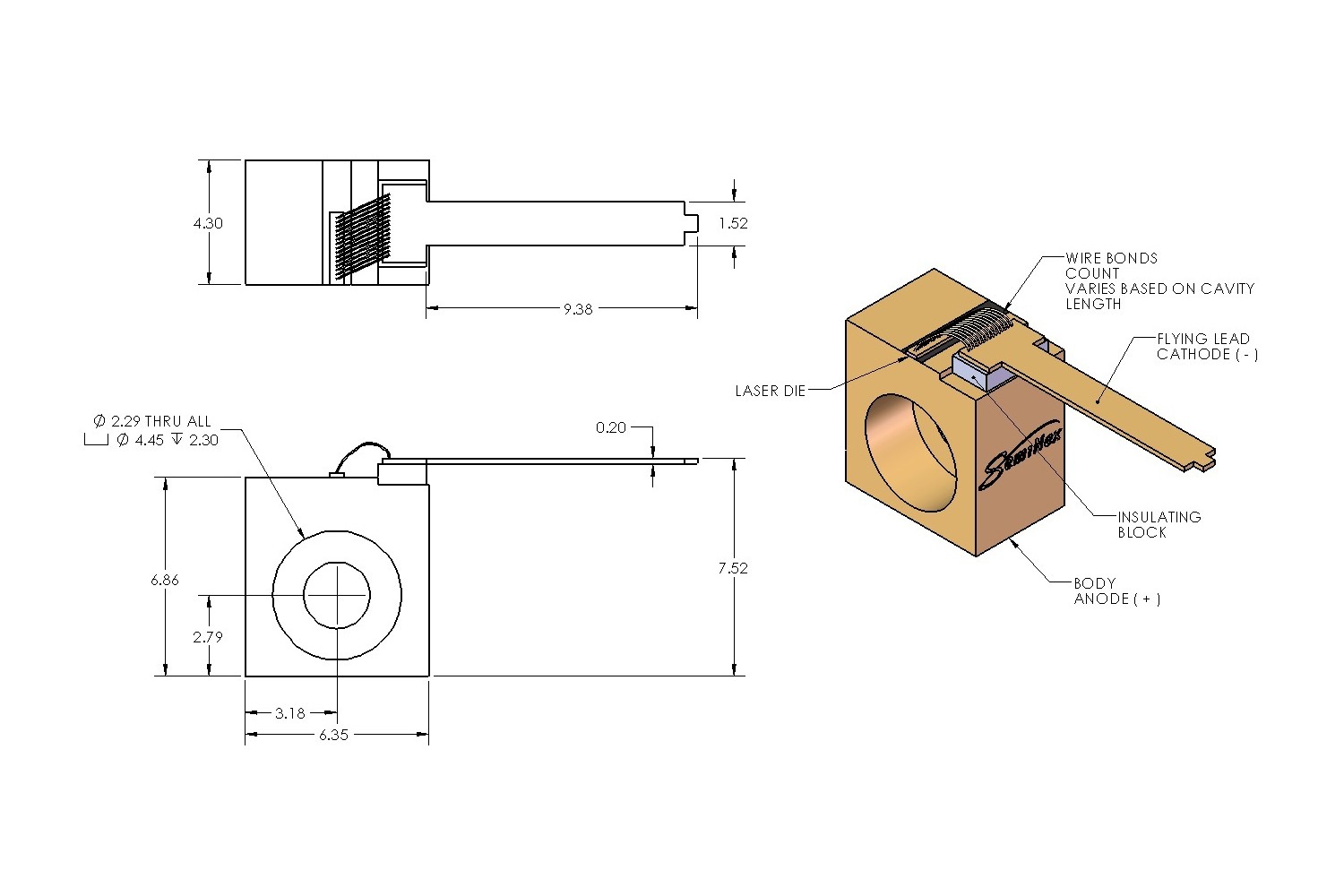 1380nm Laser High Power Semiconductor DPSS Laser With Power Suppply at BeamQ