The latest expansion of growth capacities enabled the exploration of various design variations within the active region of our Interband Cascade Lasers (ICLs). Together with a revised chip design we were able to extend the maximum operation temperature for continuous wave (cw) operation well above room temperature for wavelengths from 4.5 µm up to 5.5 µm.
At an operation temperature of 20°C a typical output power of 5mW is reached while the electrical driving power at threshold is as low as 150 mW. Typical characteristics of devices in the 46xx and 52xx nm wavelength range are shown in the graphs below.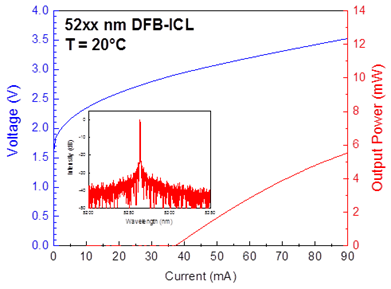 20 years of nanoplus – DFB lasers revolutionize high precision gas sensing
On October 1st, 1998, nanoplus started with the production of laterally coupled distributed feedback lasers. With unforeseen wavelength precision, stability and diversity nanoplus DFB lasers paved the way for numerous state-of-the-art gas sensing applications in science and industry.
A strong belief in the driving force of innovative technological development, ambitious company growth and passionate dedication shaped the past 20 years of nanoplus.
Since its beginnings, nanoplus has committed to continuously developing its DFB laser technology for the gas sensing market. The continued research effort has led to various pioneering lasers with cutting-edge specifications.
The growing array of top-grade applications relying on nanoplus lasers is overwhelming. Most recently, nanoplus DFB laser technology is e. g. used to carry out isotope selective CO2 measurement in breath gas analysis. In another instrument it monitors sulphur dioxide to help recycle heavily contaminated activated charcoal and the International Space Station (ISS) observes in real-time its formaldehyde level with nanoplus lasers. In the future nanoplus devices will measure gases in next-generation space systems or detect the alcohol blood level of American drivers.
Convinced of the power of its DFB laser technology and the large market for it, nanoplus started to heavily expand its production capacities very early. Today, nanoplus is well set up to cater the needs of its growing number of industrial customers. It offers vast clean room facilities with an almost fully automated process line and consisting of an impressive ultramodern machinery fleet.
At the same time, nanoplus has always put emphasis on optimizing its production processes to live up to its customers strict requirements. At this end, nanoplus has introduced a tight quality management system certified by ISO 9001:2015 and ISO 14001:2015.
Along with the massive production expansion, nanoplus has enlarged its R&D and production manpower continuously over the past years. This knowledge basis together with the outstanding enthusiasm, motivation and team spirit of all employees helped nanoplus to face the organizational challenges involved in the development from small start-up into a reliable partner for industrial and scientific customers.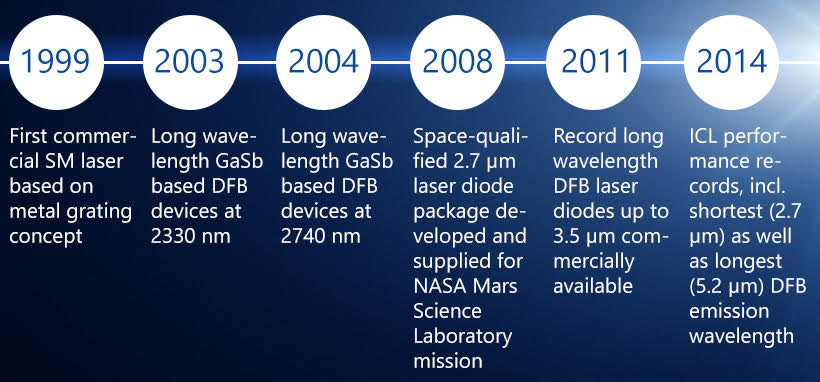 After having successfully introduced interband cascade lasers for various gas sensing applications in the MIR wavelength region, nanoplus now proudly presents its new MIR light emitting diodes based on the interband cascade technology.
The new high performance ICLED devices offer continuous wave operation at room temperature with output powers exceeding 1 mW at an emission wavelength centered around 3.2 µm. Other wavelengths are available upon request, making these devices highly interesting for methane and CO2 sensing.
The new ICLED devices are packaged into cost effective ceramic surface mountable packages with low thermal resistance, Thus, the ICLED technology provides a real alternative to previously available solutions like thermal emitters typically used in NDIR spectroscopy.
Surface mountable nanoplus MIR ICLED for continuous wave operation in a ceramic package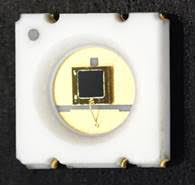 Continuous wave operation light-current-voltage characteristics of an MIR-ICLED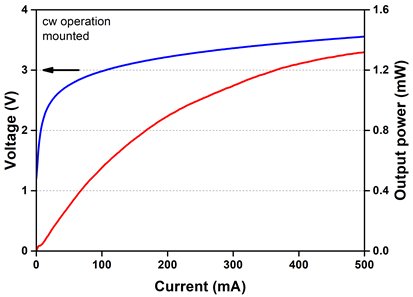 Spectrum of a mounted MIR-ICLED